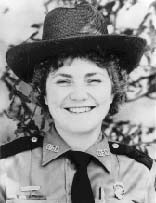 In Memory of Wildlife Officer Peggy Park
December 13, 1984
Wildlife Officer Margaret E. "Peggy" Park was born on November 28, 1958, in Columbus, Ohio.
Officer Park grew up in the Columbus, Ohio area and graduated from Bexley High School in the suburbs of Columbus, Ohio in 1977. She graduated from Ohio State University in December 1981 with a bachelor of science degree in natural resources and wildlife management. She began working for the Florida Game and Fresh Water Fish Commission on September 7, 1982, after graduating from the Wildlife Officer Recruit School in Tallahassee and assigned to Pinellas county.
Officer Park, 26, a three-year veteran of the Florida Game and Fresh Water Fish Commission, was shot and killed on December 13, 1984. Two men were convicted of the killing. Martin Edward Grossman, 20, was sentenced to death and is still on Florida death row. Thayne Taylor, 17, was sentenced to seven years in prison. He served only two years and 10 months before being released into a "supervised community release program" in Pasco County. He was discharged from that program on December 4, 1987.
Officer Park was alone on routine patrol on Thursday evening, December 13, 1984, when she spotted a van, she thought to be suspicious, in a remote area of northeastern Pinellas County. She became suspicious of the two occupants. She found a handgun and seized it along with the occupant's driver's license. When Officer Park opened the door to her vehicle to radio in the information, the subject grabbed her large flashlight and beat her 20-30 times on the head and shoulder. The other subject joined in the assault but was disabled temporarily when Officer Park kicked him in the groin. During the struggle, Officer Park was able to draw her gun but was only able to fire a "wild shot" into her vehicle. The subject wrestled the gun away and shot her in the back of the head. Officer Park was pronounced dead at 8:32 p.m.
Officer Park was survived by her parents, James and Margaret Park, a brother, Steve Park, and a sister, Betsy Park.
The funeral, arranged by the Moss Funeral Home of Clearwater, was held at St. John's Episcopal Church in Clearwater. There was no burial service as the body was cremated. Her ashes were taken by helicopter and scattered over the eagles' nests she had watched so often.
Memorium – Officer Down Memorial Page