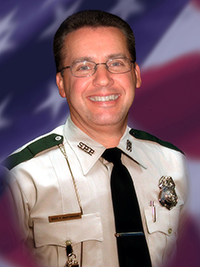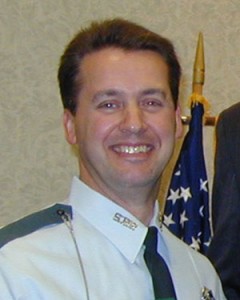 In Memory of Sergeant Thomas J. Baitinger
January 24, 2011
On January 24, 2011, at 7:29 a.m., Sergeant Tom Baitinger was on-duty when he heard the words gunshots and officer down on the police radio. He responded to the scene without hesitation.
When he arrived, he discovered that K-9/TAC team Officer Jeffrey Yaslowitz had been shot in the attic of the home. Deputy U.S. Marshall Scott Ley had been wounded and was in a bathroom inside the main part of the house.
Tom also learned the armed suspect – an active shooter – was hiding in the attic of the home and was firing rounds through the ceiling at police officers.
At 7:43 a.m., Tom obtained a ballistic shield, held it above his head and heroically led a rescue team into the house. From all accounts, he did not hesitate to lead the rescue team or to risk his life to save fallen officers.
Once inside, Tom passed under the entrance to the attic when the armed suspect fired a round that struck his ballistic vest in the lower back. Officers heard Tom say, I've been hit. I'm okay. Let's get Yaz.
More shots rang out from the attic. One of the bullets struck Tom's ballistic shield. It was a glancing shot from above that skipped downward across the inside of the shield. The suspect then fired another shot, a 9mm round that missed Tom's ballistic vest and struck him in the upper shoulder.
Mortally wounded, Tom made his way into a bedroom of the house.
Officers outside of the house lifted Tom through a bedroom window, placed him into an ambulance and transported him to Bayfront Medical Center.
Sergeant Thomas Baitinger died a short time later.
Tom was born on August 28, 1962, in Madison, Wisconsin. He graduated from Middleton High School in 1981 where he sang in the school's choir and played the trumpet in the band. He earned a B.S. Degree in Behavioral Science and Law to prepare him for a career in law enforcement. He later obtained an MBA degree from St. Leo University.
Tom began his service as a part-time police officer with the Cottage Grove (WI) and Fitchburg (WI) police departments. In 1988, he became a Deputy Sheriff with the Dane County, Wisconsin Sheriff's Department and remained there for seven years.
In 1996, Tom joined the St. Petersburg Police Department where he served as a police officer and detective. In 2004, he was promoted to Sergeant and later became a supervisor in the Field Training Unit. He also served the Department as a High Liability Instructor and mentored youth at Gibbs High School.
Tom enjoyed many interests in his life, such as golf or playing cards with friends. One of his life's greatest passions was his love for the Green Bay Packers.
Most of all, Sergeant Thomas Baitinger loved being a police officer.