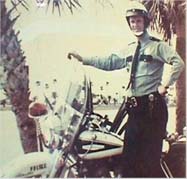 In Memory of Patrolman Peter M. Price
February 12, 1969
Patrolman Peter M. Price was born June 13, 1941, in Rockville Center, Long Island, N.Y. A veteran of the United States Army, he joined the Clearwater Police Department on October 19, 1965.
On December 15, 1967, Patrolman Price volunteered for and was assigned to, duty as a Motorcycle Officer.
At 1:35 p.m. on February 12, 1969, while responding to an emergency call on his 1967 Harley Davidson, Patrolman Price was involved in a crash at Drew Street and Northeast Coachman Road.
The driver of an oncoming car turned left in front of him.
Patrolman Price was thrown from his motorcycle and suffered severe head and internal injuries. He was taken to Morton Plant Hospital, where he was pronounced dead 45 minutes later. He was 27 years old.
Patrolman Price was survived by his parents, wife, and two brothers. He was buried at Sylvan Abbey.
Patrolman Price was the second Clearwater police officer to die in the line of duty, and the second to die in a motorcycle crash. Sadly, his death was investigated by Patrolman John F. Passer, who himself was killed in a motorcycle crash the next year.