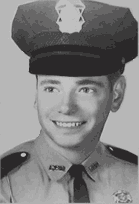 In Memory of Patrolman John F. Passer
July 12, 1970
Patrolman John F. Passer was born February 1, 1946, in Utica, N.Y. He moved to Pinellas County from Richmond, Va., in 1961 and attended local schools. He joined the Clearwater Police Department on February 8, 1967.
Patrolman Passer was twice commended for heroism, once for rescuing a woman from a burning house and once for rescuing another woman from a submerged car.
On August 12, 1968, at his request, Patrolman Passer was assigned to duty as a Motorcycle Officer.
At 3:52 p.m. on July 12, 1970, Patrolman Passer, driving a 1969 Harley Davidson, was attempting to stop a traffic violator at South Greenwood Avenue and Lotus Path. He had apparently pulled alongside the violator's vehicle to signal it to pull over when the car turned left, striking him.
Patrolman Passer was taken to Morton Plant Hospital, where he died of head injuries at 6:00 p.m. He was 24 years old.
Patrolman Passer was survived by his parents, his wife, and two daughters. Burial was at Sylvan Abbey.