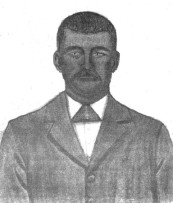 In Memory of Marshal "Rat" Whitehurst
July 4, 1893
So, you've probably heard of the infamous feud between the Hattfield and McCoy's, a story that has graced the silver screen in various forms over the years,
But have you ever heard of the Whidden-Whitehurst-Stevenson Feud?
According to the Tarpon Spring Truth, this local feud likely resulted from the public whipping of Hudson resident Constantine "Bud" Stevenson by Tarpon Springs town marshal, William "Rat" Whitehurst.
This whipping was in retaliation against Stevenson, who reportedly beat-up the marshal's 85-year-old great-uncle, after accusations by the elderly man of stealing cattle.
However, this course of retaliatory events was only the beginning of the revenge-inspired slayings and senseless killings that became widely known as the Whitehurst- Whidden- Stevenson Feud.
Marshal "Rat" Whitehurst is Slain
According to Forgotten Heroes: Police Officers Killed in Early Florida, 1840 1925, the first known killing of these feuding factions unfolded on July 4, 1893, during Independence Day celebrations in Tarpon Springs, in what appears to be a well-orchestrated set-up by the Stevenson faction.
According to newspaper accounts of the incident, during the days celebrations, Marshal Whitehurst was called away to deal with a drunk and disorderly sponge fisherman named Bob Atwell, who was creating a disturbance.
As Atwell resisted arrest, 36-year-old Constantine Stevenson intervened.
According to the Tarpon Springs Truth and eye-witness testimony, Stevenson, a very muscular fellow, proceeded to struggle with the marshal, who was unable to take the big man on his own.
So, to show his suspects that he meant business, the marshal immediately drew his revolver and fired two warning shots at the ground.
Stevenson reportedly drew a gun and returned fire, striking the marshal in the chest and through the lung. The gunfight ensued.
Severely wounded and fearing for his life, Marshal Whitehurst was capable of getting off a shot, which struck Stevenson in the head.
But Stevenson was not seriously injured enough to give up the fight.
As Stevenson was reeling from his wounds, family acquaintance John McNeill attempted to finish off the officer by shooting his head and back, knocking Whitehurst to the ground.
But, not satisfied he was dead, according to eyewitnesses, Stevenson stood over the marshal's? body and fired a final shot, afterward beating his head with the butt of his revolver.
As Stevenson continued to beat the marshal, 36-year-old Tillett Whidden, an in-law to Stevenson, arrived on the scene.
As Whidden approached, Stevenson rose and fired his last pistol shot before collapsing from excessive blood loss.
McNeill and Atwell fled the scene and took to the woods of Pasco County but were captured or surrendered knowing that a pose of men was hot on their trail.
Stevenson remained in Tarpon Springs under protective custody, while attended to by a local physician and his closest family and friends.
But, this feud was just getting started.
The Acquittal
On July 26, 1893, three weeks after the marshal was killed, a mob of approximately fifteen masked men made a raid on the Tarpon Springs home where Bud Stevenson was recovering from his wounds.
According to accounts of the incident, the mob first seized Deputy John Mobley at gunpoint. But, in order to enter the house, they had to first pass the Stevenson women who were sleeping on the verandah.
As the woman woke to the gun-wielding mob, a chaotic struggle ensued, allowing two men to slip around the side of the house to an open window. There, they spotted Stevenson laid up in the bed and opening fire, striking him in the jaw.
But, one unintentional victim during the mob conflict was Stevenson's 19-year-old cousin, Henry Taylor Osteen, who was asleep near the window. Osteen died of the wounds received that night becoming the second fatality of the feud.
Eventually, Stevenson recovered from his wounds and was placed in jail where he, Atwell, and McNeill awaited their trial, which came before a grand jury on May 25, 1894.
At the end of the seven-day trial, the jury deliberated for 15 minutes before returning their guilty verdicts.
While McNeill was convicted of manslaughter, Stevenson was convicted of first-degree murder with a recommendation of mercy in sparing his neck from the hangman's noose. However, four days after the verdicts were handed down, Judge Baron Phillips overturned the ruling, declaring a mistrial, Stevenson and McNeill walked free from their crimes.
While McNeill was never retried for his involvement in the marshal's death, on December 20, 1894, Stevenson was brought back before the courts for his retrial, which ended in his ultimate acquittal.
Within six months, the retaliatory killings began once again when Dan and Crocket Whidden, brothers to Tillet, were assassinated and gunned down at their turpentine camp on the Cotie River.
According to the New York Herald, on July 25, 1895, at about 1 a.m., a dozen men rode into the Whidden camp in Port Richey, shot the brothers to pieces, and simply rode away.
It was believed at the time that the two young men were assassinated by members of the Stevenson faction, although no evidence seems to have been procured in the case.
Constantine "Bud" Stevenson Gunned Down
In the years that followed the slaying of Marshal Whitehurst in Tarpon Spring, the death of Henry Osteen, and the cold-blooded killing of Crocket and Dan Whidden, Bud Stevenson lived his life as a marked man, constantly looking over his shoulder, and never more than an arms reach from a loaded gun.
Settling in the coastal community of Hudson, Stevenson opted for a simple and quiet life of farming, perhaps in an attempt to put his past behind him.
However, on February 3, 1897, his past came calling as members of the Whidden and Whitehurst factions finally caught up with him.
According to newspaper accounts, with his two daughters at his side, Stevenson was busy working to plant a watermelon patch when his assassins unleashed their furry.
Concealed in a clump of bushes, the gunmen fired four charges of buckshot into the open field where Stevenson was working, immediately tearing his body to pieces.
Too late to realize he was under attack, Stevenson attempted to escape, but when he jumped over the fence, he fell before his wife could reach him with his loaded gun. There, bleeding on the ground before his wife and children, Bud Stevenson died from his fatal wounds. It was reported that this was the first occasion he had been without his gun since 1893.
The news of his death quickly spread and learning that warrants had been sworn for their arrest, on February 24, 1897, the Tampa Morning Tribune reported that Tillet Whidden and Willard Whitehurst surrendered to the Hillsborough County sheriff in the complicity of Stevenson's death.
Both claimed no involvement in the shooting and gladly awaited their day before the judge.
On May 5, 1897, Tillet Whidden had his preliminary hearing and after opening arguments in the case Judge Baron Phillips refused to grant bail and the defendant was remanded to jail. However, he eventually walked free.
While some researchers believe the feud ended with Stevenson's death, newspaper accounts tell a different story.
According to Forgotten Heroes: Police Officers Killed in Early Florida, 1840, 1925, after Stevenson's death a large number of people known to be involved in the feud made heavy purchases of arms and ammunition fearing that the other side would attack.
On May 25, 1897, Trilby resident William Edwards was gunned down while sitting at the dinner table of his home, eating supper with his wife and two children.
According to the Tampa Morning Tribune, Edwards, closely related to the Whitehurst family, was shot through an open window of his home at about 8 p.m.
No clue as to the identity of his murderer, or murderers, was left behind. However, his family had strong suspicions that someone connected with the Stevenson family committed the dastardly deed.
Edwards was a one-armed ex-Union soldier who was thought to have gunned down Bud Stevenson a month earlier.
Following Stevenson's death, Whidden faction leader Tillet Whidden relocated his family to DeSoto County, about five or six miles northeast of LaBelle on Deadman's Branch.
There, on August 31, 1900, Tillet Whidden was shot during an ambush near Fort Thompson and was reportedly in a dying condition.
At the time of the shooting, Whidden was riding across an open field and was ambushed in much of the same manner as Bud Stevenson
According to the Tampa Morning Tribune, the ambush on Whidden was chalked up as the result of the long-standing Whidden-Whitehurst-Stevenson feud.
However, some researchers believe this may have also resulted from another feud known as the Ashley-Widden Feud. Sheriff's deputies who visited the scene were unable to obtain much evidence, although some attribute the shooting to Joe Ashley.
While Tillet survived the wounds he received, his shooting was among the last known recorded incidents of the feuding Whitehurst- Whidden- Stevenson factions.
About this column: Every week, historian and Hudson resident Jeff Cannon gives his perspective on the history of a landmark or person in town.