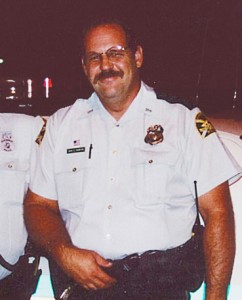 In Memory of Officer David S. Crawford
February 21, 2011
On February 21, 2011 at about 10:25 p.m., a city resident called the St. Petersburg Police Department when he noticed a suspicious man, holding a broken brick in his hand, walking in the rear yard of his home in the 700 block of 3rd Avenue South. The complainant was concerned the man might be trying to commit a burglary in the area and said he had last seen the man, wearing a dark-colored hoodie, jumping over a fence.
The Communications Center dispatched Officer David Crawford and Officer Donald Ziglar to the call. In addition, other patrol officers began moving into the area.
Officer Ziglar arrived in the area at 10:34 p.m. Dave arrived a few seconds later. As Dave circulated the area in his police cruiser, he saw a man wearing a hoodie near the southwest corner of 2nd Avenue South and 8th Street South.
Dave stopped his cruiser near the corner of that intersection, got out, and approached the suspect, who then produced a handgun and shot Dave several times in the chest. Dave drew his weapon and fired it several times, but the suspect ran away from the scene uninjured.
At 10:37 p.m., Officer Ziglar notified radio that he heard an exchange of gunfire. He ran toward the scene, encountering an eyewitness to the shooting on the way, and found Dave lying on the pavement near the driver's door of his police cruiser. Dave was transported to Bayfront Medical Center where he was pronounced dead.
Officers searched for the suspect throughout the night and the following morning. The Department released a video of the suspect taken a few blocks away and a photograph of one of the suspect's shoes. By the afternoon, several tips from the community produced the name of the suspect – a 16-year-old. He was taken into custody and provided a confession to investigators.
Dave was born in St. Petersburg, Florida on May 7, 1964. He grew up in Pinellas County and graduated from Seminole High School in 1982. He attended Johnson Bible College in Knoxville, Tennessee in 1983.
Dave joined the St. Petersburg Police Department on November 21, 1984, and was sworn in as a police officer in the following year. He spent most of his career on the midnight shift and was particularly successful in handling domestic disputes. He had a talent for calming people in a crisis situation and was very supportive of domestic abuse victims. CASA leaders considered Dave to be a particularly compassionate officer.
Dave loved working off-duty at the Tampa Bay Rays baseball games. When he was at home, he loved to work with his hands, fix things, and barbeque. We remember him as a humble, quiet, dependable, and trustworthy man who dedicated his life to the service to others.